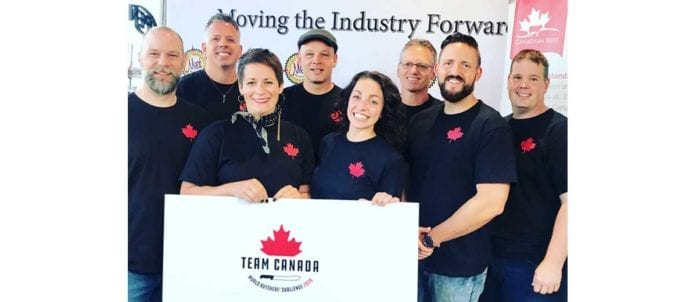 GUELPH, Ont. — For the first time ever, Canada will be entering a team into the World Butchers' Challenge taking place in Sacramento, Calif., on Sept. 5, 2020.
Creating a Canadian team was the brainchild of Peter Baarda, Team Captain, three-time winner of Ontario's Finest Butcher competition and owner of J&G Quality Meats, in Burlington, Ont. The team went through a rigorous try-out process, with seven butchers ultimately chosen to join Baarda to represent Canada at this prestigious competition. The final team will be comprised of nine members, with the final spot going to the winner of Ontario's Finest Butcher 2019.
Team members include:
Aaron McLaughlin (Didsbury, Alta.)
Brent Herrington (Port Perry, Ont.)
Corey Meyer (Edmonton)
Damian Goriup (Oakville, Ont.)
Dave Vander Velde – (Stoney Creek, Ont.)
Elyse Chatterton (Edmonton)
Peter Baarda (Burlington, Ont.)
Taryn Lee Barker (Port Moody, B.C.)
TBD
"Our industry faces a critical shortage of skilled labour. Esteemed competitions like this help elevate the profession to where it belongs as a true and respected trade. As an association, we are proud to put forward and support a Canadian team in the World Butchers' Challenge," says Carol Goriup, president, Meat & Poultry Ontario.
Competing comes with a hefty price tag as competitors must travel to practice together, as well as to California for the competition itself. To help fund this endeavour, a GoFundMe campaign has been set-up Funds raised from this campaign will be used to offset travel expenses and help defer other associated costs, such as uniforms, props and 'practice' proteins.

The team's corporate sponsors to date include Canada Beef, Friedr Dick Knives, Europaeus, Pearl Street Communications and Chef Works. Interested corporate sponsors can contact Team Canada general manager Franco Naccarato at [email protected].