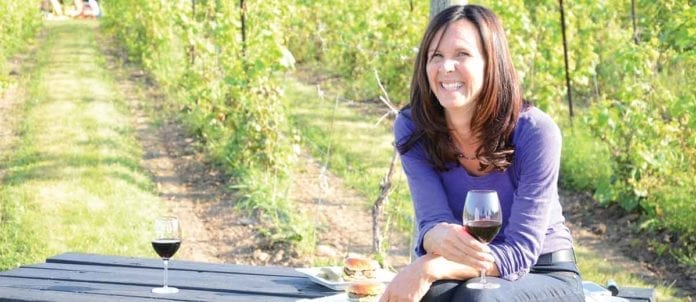 Sandbanks put Baco back on the map, according to Catherine Langlois, proprietor and winemaker at Sandbanks Estate Winery in Ontario's Prince Edward County, a VQA region since 2007.
The great European vineyards are results of many generations founded in soil that has been worked for centuries, but Langlois is producing award-winning wines from grapes that she herself helped to plant less than 20 years ago.
"When something is new, you can try a lot of things and be adventurous," she says. "We planted Baco Noir at a time when it wasn't fashionable and looked at as a blending grape. It's disease-resistant, so we almost don't have to spray it, and winter-resistant; we can make good wine out of it that is also affordable."
After studying hospitality in Montreal and working in the wineries of Burgundy, Langlois took a sales position with Pelee Island Winery. In Ottawa of the late 1990s, the Canadian wine industry was still fighting for recognition, but she had "loads of energy and it was a good time to pound the pavement." She gained further sales experience working with several wine importers in Ottawa before making a chance visit to attend a birthday party for a fellow winemaker in "The County."
"I arrived and I realized there was a whole movement here, and I came back every weekend," she says. She sold "a really nice motorcycle" and her Ottawa home to raise the $39,000 she needed to buy 14.9 acres of "super rocky" land. Soon, "a gentleman came from Niagara with a tractor and a machine" to plant the grapes, and Langlois would literally put her baby daughter in the playpen under mosquito netting while she worked in the vineyard. Later, friends and neighbours would arrive to help — especially at harvest time.
"It was good, and we still have a big harvest party every year where we invite our customers, and now there's a waiting list to help with the harvest," Langlois says. A small batch of wine was bottled with the vineyard's third-year crop in 2003; today, Sandbanks produces 45,000 cases annually, augmenting the local supply with grapes from Niagara and Lake Erie North Shore.
"We're really grateful," she says. "Prince Edward County has a beautiful Taste Trail and a beautiful Arts Trail. We're part of a vibrant community, and we're ready to share this with the rest of the country."
Written by Sarah B. Hood