Meet eight of this year's OHI Top 30 Under 30 award winners who are raising the bar in Ontario's hospitality industry
ALEX BRUCE
29, co-owner, The Lark
From a profound dedication to sustainable living, The Lark was born. But owner Alex Bruce didn't set out to run a restaurant. In 2010, he graduated with an Honours degree in music (with a focus on piano) from York University, all while working full time in the hospitality industry. His resumé includes such well-known restaurants as the Drake Devonshire and Bestellen, as well as a stint as an Operations manager with NH Wines.

Following graduation, Bruce and his wife Celine moved to Prince Edward County, Ont. to start a family and open a small restaurant. With a strong focus on sustainability, The Lark in downtown Belleville, Ont. serves locally sourced food, the largest natural, organic and biodynamic wine list in the area and bespoke cocktails.
"Each one of these initiatives was spearheaded by Alex and largely a result of his genius," says Celine Bruce-Lepage, co-owner and general manager of The Lark.
Prior to opening the restaurant, Bruce entered — and won — a number of cocktail competitions, including the Absolut Invite and Havana Club Canadian Cantineros. He also completed the Court of Master Sommeliers (Level One). His penchant for the art of cocktails has made The Lark a premier destination.
"The opening of The Lark has heightened the level and set the bar for gastronomic establishments in Belleville," says Lee Thomas Baker, winemaker and vineyard manager, Keint-He Winery and Vineyards. "[Bruce's] loyalty to the purity of his craft has led to the creation of award-winning, truly artisanal cocktails."
ALICIA KUMAGAI
28, sales manager, 100km Foods Inc.
Alicia Kumagai began her hospitality career in restaurants before moving into sales. After completing a Bachelor of Commerce, Hotel and Food Administration at the University of Guelph, Kumagai elected to continue her education, completing a Masters in Food Culture and Communications at the University of Gastronomic Sciences in Northern Italy.
While studying, she worked as an assistant kitchen manager at a local café and later as a dining-room manager with Earls Restaurants. After completing her masters, she became 100km Foods Inc.'s first-ever sales representative — a position that saw her increase sales by more than 40 per cent year over year.
"After meeting and hiring Alicia, we immediately knew we would be in great hands," says Paul Sawtell, co-founder and CEO, 100km Foods Inc. "Almost daily, we're reminded by our customers — leading Ontario chefs and foodservice professionals — how wonderful it is to work with Alicia and her infectious enthusiasm, dedication and good humour."
Kumagai moved on to an account executive position with Chef Works Canada before returning to 100km Foods last year as the company's sales manager. In her current role, she's responsible for recruiting, training and coaching the company's sales team, as well as driving the expansion of its customer base.
Kumagai has also demonstrated an ongoing commitment to learning, having recently achieved the WSET (Wine & Spirit Education Trust) Level 3 Award in Wines.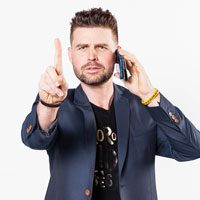 CATALIN (CHRIS) PALIVAN
28, co-founder and CEO, Toronto Cider Festival Inc.
From dishwasher at the age of 19 to co-founding the Toronto Cider Festival, it's been a wild ride for Chris Palivan. His penchant for travel has given him a wealth of experience in the hospitality and management industries, allowing him to create guest experiences at international events such as the 2018 Commonwealth Games in Australia, the 2017 Invictus Games and the 2015 Pan Am Games in Toronto.
At the age of 20, he embarked on a two-year adventure around the world, visiting Asia, Switzerland and Sydney, Australia where he began a career in hospitality with Marriott International as a food-and-beverage assistant.
In his mind, there's no greater service than living a life of purpose, creativity and contribution driven by your inner-most passions. So, after returning to Canada in 2012, Palivan enrolled in George Brown College's Special Events program and later went on to co-found the Toronto Cider Festival in 2015 and the Toronto International Cider Awards in 2017 along with Ijaz Jamal — a professor at the Centre for Hospitality and Culinary Arts at George Brown College.
Attracting more than 4,300 guests in 2018, the Toronto Cider Festival generated an average increase of 55 per cent in annual operating expenses and a 65 per cent increase in annual net revenue.
What started as a passion project morphed into an award-winning, internationally recognized festival — the largest in Canada.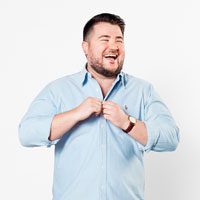 JONATHAN MANN
29, general manager, Beauty BBQ, Parcheggio, Village Loft
A graduate of Algonquin College's Hotel & Restaurant Management diploma program, Jonathan Mann began his hospitality career as a room-service attendant — first in Ottawa, then in Whistler, B.C. At the Fairmont Chateau Whistler, his success and growth helped assure him the hospitality industry was where he belonged, as he took on roles of increased responsibility.
Eager to return to Ottawa and explore the restaurant industry beyond hotels, Mann joined Beckta Restaurant Group as part of the opening staff at Gezellig before taking on the role of service manager at the group's flagship, Bekta Dining & Wine, at age 24.
Ready to take on a new city, Mann joined Oliver & Bonacini Hospitality (O&B) as the opening service manager of Leña in Toronto before moving to the demanding environment of Canoe. Mann now holds the general-manager position at one of O&B's newest projects — a three-concept space at Toronto's Bayview Village. Housed in a single building are the company's quick-service barbecue concept, Beauty BBQ; its first Italian restaurant, Parcheggio; and Village Loft — a private event space with a 225-person capacity.
"As we began planning the opening of our newest restaurant, Parcheggio, there was no doubt in our mind who our top choice was to lead our front-of-house team," says Peter Oliver, co-founder, O&B. "Parcheggio turned out to be our most successful restaurant opening to date, largely due to Jon's professional and passionate leadership."
Mann has moved through his career with a student mentality, recognizing the value of learning from each new challenge and opportunity. This thirst for knowledge fuelled a passion for wine that led Mann to complete a WSET Level 3 Award in Wines and Spirits, as well as travel to several international wine-producing regions.
LAURIE OAKES
24, pastry chef, Eat at Bench Kitchen
A reputation for artful creations and attention to detail has propelled Laurie Oakes' career. Since completing Niagara College's Culinary Management Apprentice diploma program in 2014, she's helped open two restaurants and led the pasty departments of four different businesses.
Oakes spent several years honing her skills at Peller Estate Winery before taking on the role of pastry chef for Oakville, Ont.'s 7 Enoteca and Hexagon Restaurant as part of the opening team for Hexagon. She was then recruited as part of the opening team at Cima Enoteca in Hamilton, Ont., where she was responsible for the development
of the restaurant's pastry and fresh-bread department.
"Laurie's work ethic and imagination were irreplaceable to our management team," says Justin Hill, chef de cuisine, Cima Enoteca. "She created a high standard and trained her staff to accept nothing less."
"She is an enthusiastic teacher to young cooks and is an extraordinary talent who has risen to the top in a notoriously difficult and unforgiving industry in just a short time," adds Jordan Mitchell, executive chef and partner, Cima Enoteca and Romano's Ristorante.
Oakes recently assumed a new role as pastry chef for Eat at Bench Kitchen, which operates two sandwich-bar and bakery locations in Hamilton and Grimsby, Ont. (193 Bench Kitchen and 270 Bench Kitchen, respectively). As part of a growing company, Oakes aides in the development of new menu items and concepts in addition to preparing pastries for both of the company's current locations.
BROOKE GREGOIRE
28, Catering manager, University of Toronto
Brooke Gregoire entered the world of hospitality at the young age of 16, working as a supervisor at White Mountain Homemade Ice Cream. She took pride in being able to relate well to guests and found gratification in knowing they were offered the best-possible treatment.
Gregoire has since held managerial roles at Jack Astor's, Oliver & Bonacini Hospitality, Chase Hospitality Group and Centennial College.
After completing a Bachelor of Commerce with a specialization in hospitality at Toronto's Ryerson University, Brooke Gregoire attended Wilfrid Laurier University and graduated with a Master's degree in Business Administration with a specialization in Strategic Management.
Her passion for the hospitality industry has only grown over time and last year, she became catering manager for Food Services (Ancilliary Services) at the University of Toronto, St. George Campus.
Gregoire is equally passionate about giving back and takes part in a number of outreach and community initiatives. Over the last three-and-a-half years, she co-founded an online community called Elle Leadership (formerly Women in the 6ix), aimed at providing a space in which women can network, empower and support each other. She's also co-authored a Global Citizenship and Equity Learning Experience, which involved developing a learning experience focused on sustainability and nutrition in a rural area of Brazil.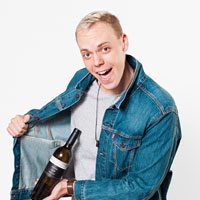 JOSHUA XAVIER KELLY
25, assistant general manager & sommelier, Biff's Bistro
While studying socio-cultural anthropology at Lakehead University from 2011 to 2014, Joshua Kelly found his passion for wine and human interaction in the hospitality industry
while learning about wine-making processes from Ancient Egypt.
After graduation, Kelly studied at the Niagara Food and Wine Institute of Canada, where he honed his skills over two-and-a-half years. He went above and beyond his study requirements, completing more than 800 hours of vineyard and cellar work at Stratus Vineyards, while also accruing more than 400 hours in Marketing and Sales at Creekside Estate.
In 2014, Kelly completed his Court of Master Sommeliers certificate and received his Wine & Spirit Education Trust court certificate shortly after. In 2016, he joined Oliver & Bonacini Hospitality (O&B) as a sommelier and, just last year, became food-safety certified.
From his humble beginnings working as a drive-thru attendant at McDonald's in 2011, to his current position as a assistant general manager and sommelier at O&B's Biff's Bistro, the Northern-Ontario native has embodied the passion and dedication it takes to thrive. In March 2019, he was promoted to assistant general manager at Biff's Bistro. When he's not working, Kelly serves as a wine consultant, as well as an advocate for sustainability in the food-and-beverage industry.
WESLEY BERNARD
28, executive sous chef, Drake Commissary
When the executive chef of the Drake Commissary was unexpectedly placed on long-term leave following a car accident, chef Wesley Bernard offered to help in any way he could. And although he'd only been with the company a short while, his culinary training and exceptional people skills allowed him to rise to the occasion. For three months, the young chef stepped up to lead the Drake Commissary kitchen in all areas — from menu flips to staff training and the implementation of new back-of-house processes.
"Wes guides cooks, teaching them new skills, theories and the philosophy of our food here at the Commissary," says executive chef Jonas Grupiljonas. "He also set the standard for organizing special events on site, teaching our cooks and sous chefs to be strictly organized and have their mise en place accounted for and ready to go." Grupiljonas calls Bernard's menus and dishes "part of the cornerstone of this restaurant."
A French-Canadian Maritimer, Bernard grew up in the kitchen, cooking with his family. Following graduation from Humber College's Culinary Management diploma program in 2010, he joined Hilton Hotel Group as a cook apprentice at the brand's Hilton London Metropole in the U.K.
Bernard has since held senior sous chef roles at Magnolia Event Centre in North York, Ont. as well as Oliver & Bonacini Hospitality in Toronto before joining the Drake Commissary as executive sous chef in 2017.
"Wesley has shown us he has all the qualities that make a great chef and, more importantly, a great leader," says Ted Corrado, executive chef, Drake Hotel Properties. "Regardless of the day-to-day challenges, he remains focused on getting the job done, rallying his team and executing at a high level."